Festivals
"Music makes people come together" is at the core of Groningen's music scene. There are small stages where you'll be able to find like-minded music lovers, for example on the special popular techno evenings appropriately titled Technootjes. But Groningen is also home to Europe's largest showcase festival, Eurosonic, which will take place in January each year, and many other festivals that bring together music lovers of all persuasions.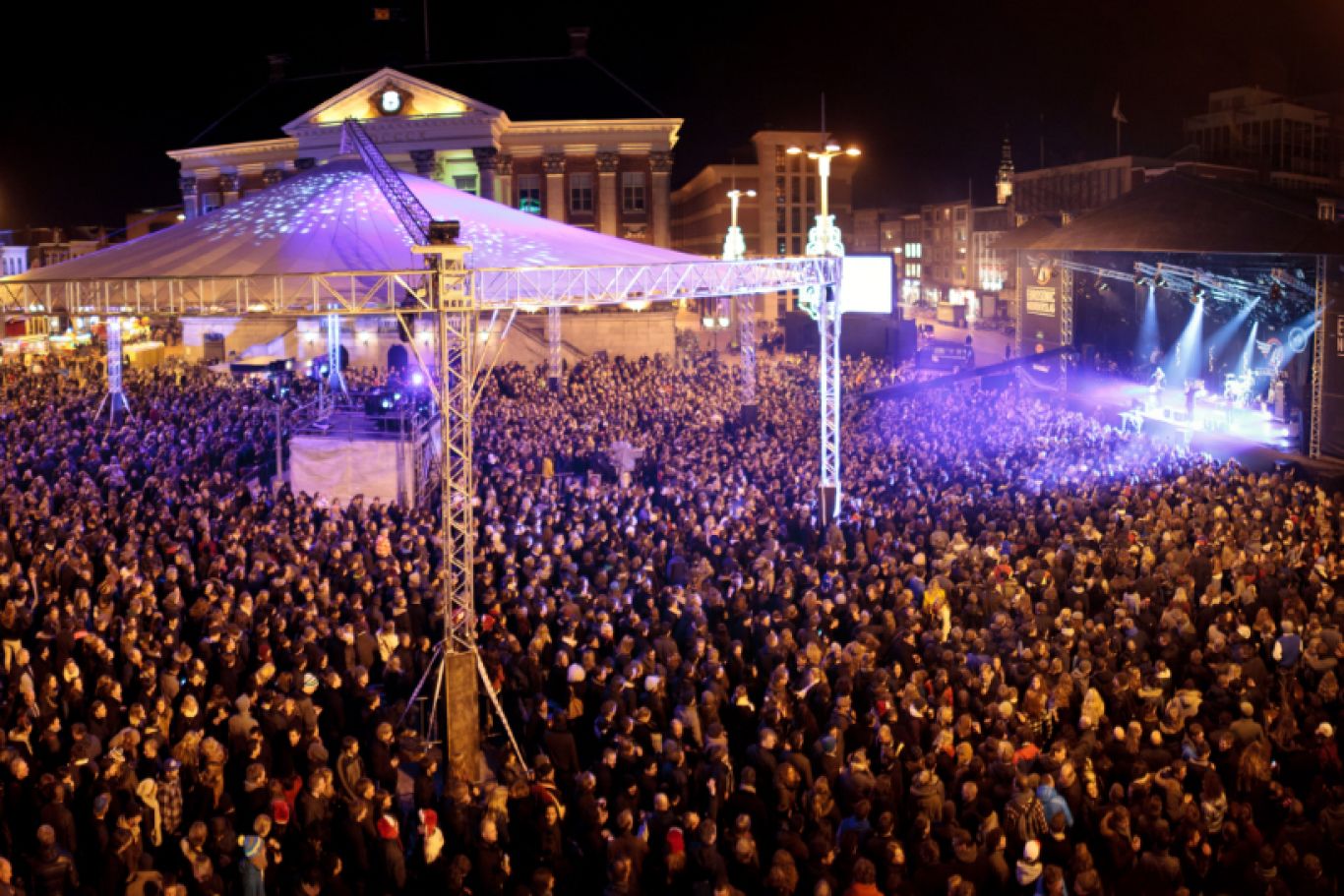 Eurosonic Noorderslag (ESNS) is the largest showcase festival of Europe. Over 200 bands give their all during the four-day festival, and Dutch media have hailed Groningen "the music capital of Europe" because of the wide variety of acts. Accompanying the event is a conference, where A&Rs and artists can mix and mingle, often with a record deal as reward. During these four days, many famous, alternative, and international musicians are coming to perform. In the past, artists like Adele, Mumford and Sons, Stromae and Dua Lipa performed during ESNS in Groningen. Noorderslag is the Dutch component of the festival, in which a variety of Dutch bands gets the opportunity to convince the world of their talents. Many Dutch artists have since propelled to national fame, and Noorderslag is the perfect way to sample everything that our small country has to offer—and trust us, that is quite a lot! You have to purchase festival tickets to witness all the goodness, but if your wallet doesn't match your musical appetite, there are also other free opportunities during the festival. In music store Plato and next door coffee place Coffee Company, many acts that also perform at the festival give free showcases. And if you're simply comfy in your room, the concerts are also broadcasted live on Dutch television.
Noorderzon Festival takes place in the last week of August till the start of September. Noorderzon is an international art festival and a large-scale summerfest for 140,000 visitors. The heart of the festival is the idyllic Noorderplantsoen (a city park) where, for eleven summer days, a freely accessible festival village appears almost out of nowhere to provide a setting for theater, dance, music, literature and visual art in combination with eating, drinking and social encounters. Some of the performances are paid and others are free to visit.
The King's Day is on 27th ofApril and it is one the biggest national party days in the Netherlands. During King's Day, many different events are happening around but the one in Stadspark is one of the most impressive events to visit. Usually, headliners of the King's Day Festival called 'Kingsland', are famous people such as Armin van Buuren, Tiësto and many more. A ticket is around 50 euros but totally worth it for such a great lineup!
Liberation Day is on the 5th of May. It is a national celebration to mark the end of the German occupation of the Netherlands during WW2. The Liberation Day Festival is spread through the city on many different spots. The main stage is at Stadspark. The musicians are international and Dutch, and the concerts are free of charge. Apart from the festival there are also markets and other festivities in the city centre of Groningen.
Groningen is a very jazzy city because of the Conservatorium and the jazz lovers. Swingin'Groningen is the jazz festival of Groningen taking place in June. The festival takes 2 days with stages all around the city. The concerts are with a free entry and it is a great place to fall in love with jazz music. Many international jazz musicians are invited to perform in Groningen.
The KEI-week takes place annually in August. It is meant to introduce first-year students to the city. The upcoming students are divided into groups and go to different locations and activities in Groningen. The KEI-week continues for 5 days and most of the days end with an amazing party. An early bird ticket costs €45.- and a late bird ticket costs €48.-. It is a great event to get to know people and places in Groningen.
Paradigm Festival is a very diverse electronic techno/house festival. It takes place outdoors at the Suikerunie, which is a 10 minute bikeride from the city center.
StuKafest is the most original festival in town, as all of the action takes place in student rooms (studentenkamers in Dutch, hence the name). Bands perform in rooms made available by Groninger students, which gives an intimate and unique touch to the concerts. There are also plays and other art forms that showcase themselves during the festival.
Jonge Harten Theaterfestival
Jonge Harten is a nine-day international theater festival which takes place in November and gives a stage to young theater-makers. The language is not a problem because most of the arts are to be felt. The festival becomes more and more popular every year.